About Us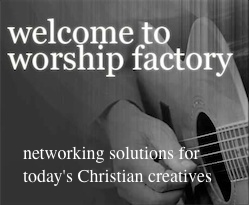 "Each one should use whatever gift he has received to serve others, faithfully administering God's grace in its various forms" 1 Peter 4:10.

With a passion for supporting local artists and a desire to unite creative Christian communities, founders, Kempton Bryan and Rod Shreckengost, brought Worship Factory to life in 2010. They were moved by the deep fragmentation they saw in the Christian community, which is evident by the segregation of congregations on Sunday mornings in churches nationwide and were determined to challenge this culture of division within the body of Christ. Fragmentation has caused many artists, regardless of their medium, to feel increasingly isolated, over-looked and underappreciated. Because of this, Rod & Kempton's hearts were burdened to bring the creative body of Christ together in order to support one another in pursuing God's plans for our lives, individually and as a unit. This collective effort is called Worship Factory.

Overall, Worship Factory encourages Christian creatives to strengthen their skills and experiment with their gifts so they can ultimately honor God and follow the calling He has placed on their lives. Based in Southern California, it acts as a resource for Christian artists, including musicians, singers, painters, photographers, graphic designers, and so on. We encourage, support and foster fellowship among artists of all mediums and denominations to help them find fulfillment in using their gifts and talents to serve and worship God.