Radio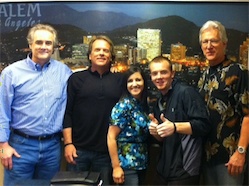 Worship Factory has a one hour radio show with Rod Shreckengost and Kempton Bryan every week. They share the microphone with Monique Donnelly who provides contrast and wonderful vocals. There's also a segment for the college age creatives called Xposed which is hosted by Jon Bryan and Mariana Muzzi. To hear the program, tune in to KKLA 99.5 FM in Los Angeles every Saturday at 7:00 pm or you can listen live online at www.kkla.com. If you don't catch us live you can listen to the recorded broadcast here on the website and catch previous shows by going to podcasts.

The program has conversation, interviews, music, poignant topics and some fun stuff. The special guests include artists and people in the creative arts community like Monique Donnelly, Mark Bryan, Mandie Pinto, Judith Hill, Randy Crenshaw, Alvin Chea, Colton Dixon and many more. There will be major artists as well as local talent, professionals and people in worship leadership featured on the show and we'll try to keep you up to date on what's going on with Worship Factory. We will also include leaders and people from local churches who will share about creative arts and worship where they are and we will also be sharing music from new artists and from artists you know well.

This program is cutting edge for both talk radio and Christian talk radio. Creative arts and the creative community need more of a voice and this program gives us that. We appreciate your support of the program by listening, contributing your ideas, getting involved and giving us feedback on the shows. We do not have call-ins on the show but you can submit your comments on the contact us page. Thanks for listening!

We'd like to hear from you so please let us know how the radio show or one of our guests touched your life! - Contact Us
Radio Personalities
Kempton Bryan

Kempton Bryan is known as a man of many talents. After many years of training and working in entertainment, he developed a passion for writing developing and producing. Kempton has also served with the worship ministry in his church community. With a love for God, it is Kemptons desire to teach, guide, support and encourage artists with a heart for worship.


Rod Shreckengost

Rod Shreckengost has worked with several ministries in California and Oregon and is experienced in his skills as a musician, singer/songwriter, worship leader and actor. His dedication to ministry has allowed him to teach others to cherish the act of worship. To this day, worship plays an integral role in Rods life as he continues by serving on the Childrens Worship Team at Real Life Church in Santa Clarita, California.


Monique Donnelly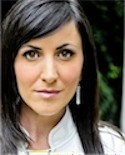 Monique Donnellys professional career began at age eight, with kids album recordings, national commercials, and projects for well known companies such as Disney, Mattel and Kawasaki. To date, Monique has recorded over fifty feature film scores, with composers such as John Williams, Randy Newman and Trevor Rabin. A seasoned professional, her career continues to grow as more and more industry professionals are introduced to her vocal talents.


Jon Bryan

Jon Bryan is best described as the hybrid of the L.A. city slicker with country boy roots. Growing up mostly between the Midwest and Los Angeles, Jon quickly discovered a passion for two things in particular: Music and People. His enthusiasm for community and fellowship with others translates through his love of music and songwriting. Jon strives to change lives for the better by using his creative talents in music, art and more.

Mariana Muzzi

Mariana has attended many performing arts schools throughout the years, where shes studied Musical Theatre, Voice and Ballet. Mariana will continue her acting career after college, with plans to start a film production company one day. She hopes to use her creativity and book-smarts experience as inspiration for others to stay proactive and engage within their community.
KKLA's line-up includes these radio show hosts.